Tickets to Billy Strings Winter Tour 2020 at Manchester Music Hall went on sale yesterday. Manchester Music Hall announced today, via their Instagram story, that the show was now sold out!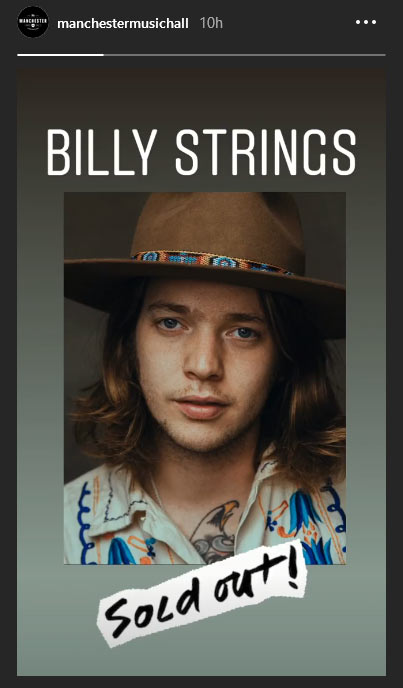 I visited the Billy Strings event page on Manchester Music Hall's website to confirm. The Buy Tickets button has been replaced with a greyed out "Sold Out" button. This means that all of his Kentucky shows are sold out — the two Headliners Music Hall dates are also sold out.
Not familiar with Billy Strings?
I randomly came across Billy at The Burl a few years ago. A friend had an extra ticket and ended up dragging me along. And I'm glad he did, as I was blown away by this amazing bluegrass guitarist and singer! I'd never seen anybody burn up the strings on an acoustic guitar like him! The music was good… really good.
I dug into some of his live performances on Youtube not long after the show. One Youtube user commented, "Billy Strings is the Stevie Ray Vaughn of bluegrass."
And I couldn't agree more. He had a fast and precise picking style that perfectly accompanied the melodic chord progressions… It was more like he was playing metal in a bluegrass band!
After some more digging, I found that Billy had previously played in a heavy metal band in his native Michigan. It all made sense! Let me tell you, this young man can play!
Missed your chance to get Billy Strings Manchester Music Hall tickets?
You're not the only one, and I'm pretty damn bummed about it. I even got the email reminder when they went on sale and still didn't pull the trigger in time! But there's still hope… considering that Billy's Winter 2020 tour features two dates in Louisville (the two days following the Manchester Music Hall show on Feb. 6), I'd put my money on them adding another Lexington date the day before (Feb. 5). Fingers crossed!
Or you could try your hand at resale tickets — click here to see what's available.