Rupp Arena has announced a solid and diverse concert lineup for the first half of 2020. There'll be a concert for everyone as artists from a wide variety of genres will rock the arena in downtown Lexington, Ky. Let's take a deeper look at the artists that make up this exciting lineup of Rupp Arena concerts in 2020.
Click here to browse Rupp Arena concert tickets!
---
The Holiday Jam: Xscape, Tamar Braxton, Cocoa Brown, Avant, Keke Wyatt & Blackstreet – Jan. 19, 2020 – CANCELED
The Holiday Jam is sure to be an R&B event for the ages! This spectacular show will star all-female R&B vocal quartet — Xscape. The show will be hosted by comedian Cocoa Brown and will feature R&B artists Tamar Braxton, Avant, Keke Wyatt, and Blackstreet with Teddy Riley and Dave Hollister. Tamar Braxton is an R&B singer with four Grammy nominations. Avant is a multi-platinum selling artist with seven records placing on the Billboard Top Ten R&B/Hip-Hop and seven singles placing on the Top Ten R&B/Hip-Hop Songs chart. Keke Wyatt is an R&B singer that has released four studio albums and one EP. Her latest album's lead single, "Sexy Song," recently reached number 29 on the Billboard Adult R&B Songs chart. Blackstreet is a Grammy-award winning American R&B group with multiple top 40 hits. The group is best known for their Billboard Hot 100 No. 1 hit "No Diggity."
Unfortunately, this event has been canceled — see more information at Ticketmaster.com.
---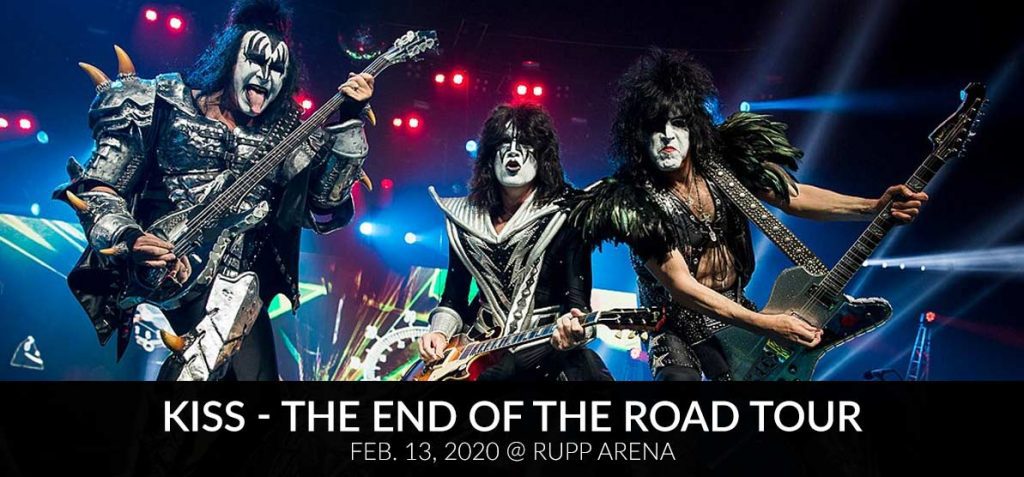 KISS – The End of the Road World Tour – Feb. 13, 2020
One of the most iconic rock-n-roll bands of all time, KISS, is bringing The End of the Road World Tour to Rupp Arena in 2020. KISS is a part of the Rock & Roll Hall of Fame and is one of the best selling bands of all time with over 100 million albums sold worldwide. They're known for their over-the-top live performances which have included fire breathing, blood-spitting, smoking guitars, shooting rockets, and pyrotechnics. The End of the Road World Tour is the band's final tour and will conclude on July 17, 2021, in New York City — where the band originally formed back in 1973. Don't miss your chance to see one of the greatest metal bands of all time when they swing by Rupp Arena in early 2020.
---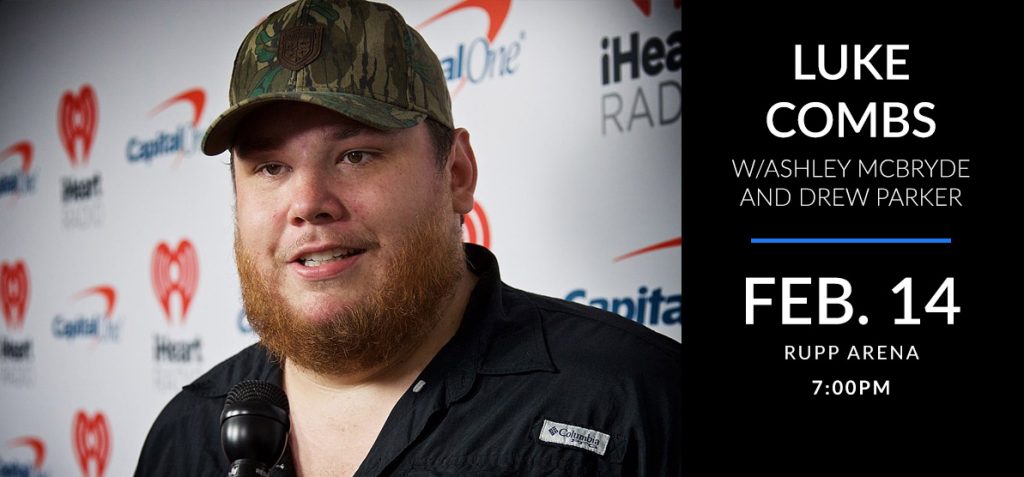 Luke Combs with special guests Ashley McBryde and Drew Parker – Feb. 14, 2020
Luke Combs is bringing his What You See is What You Get Tour to Lexington on Feb. 14, 2020. This is one of many country concerts in Lexington, Ky for 2020! Combs is an American country singer that has released two studio albums. He's had seven singles to reach the number one position on Billboard's Country Airplay chart — "Hurricane", "When It Rains it Pours", "One Number Away", "She Got The Best of Me", "Beautiful Crazy", "Beer Never Broke My Heart", and "Even Though I'm Leaving."
Special guest Ashley McBryde is an American country music singer and songwriter. Her major debut album, Girl Going Nowhere, earned her a Grammy nomination for Best Country Album. She was also named artist of the year at the 2019 CMAs. Drew Parker co-wrote Combs' debut platinum record "This Ones For You." He also co-wrote Combs' "1, 2 Many" and Jake Owen's single "Homemade."
This show is listed as sold out. Your best bet at getting to see this amazing country concert at Rupp Arena would be to look for some resale tickets.
---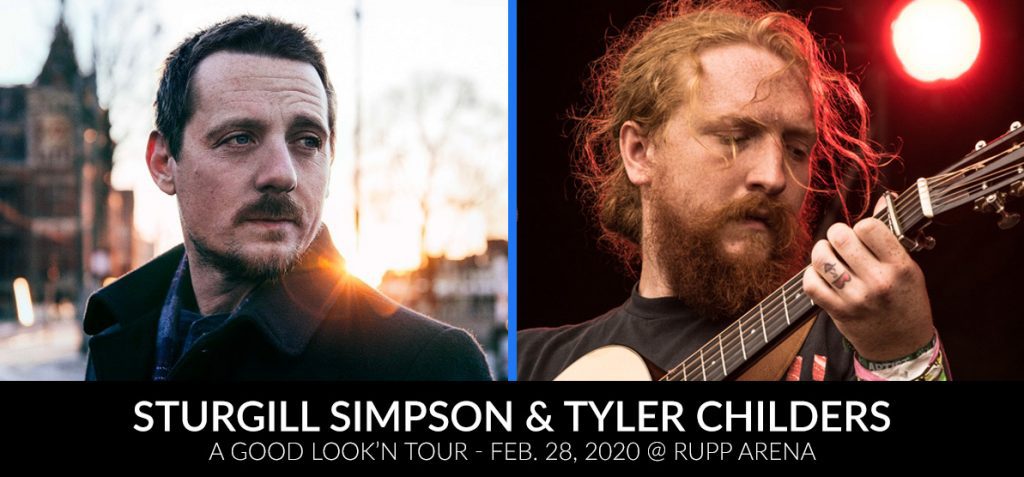 Sturgill Simpson with special guest Tyler Childers – A Good Look'n Tour – Feb. 28, 2020
Kentucky natives Sturgill Simpson and Tyler Childers take the stage in Lexington on Feb. 28 as a part of their A Good Look'n Tour. Sturgill recently announced the tour following the release of his fourth studio album SOUND & FURY. The tour features special guest — country breakout star — Tyler Childers, who released his second studio album, Country Squire, in August. Country Squire debuted at No. 1 on Billboard's Top Country Albums chart. Little known fact — Simpson produced both of Childers' studio albums. This is one live show that Kentuckians don't want to miss.
Sturgill Simpson is a Grammy Award-winning country music artist with four solo albums under his belt. His second album, Metamodern Sounds in Country Music, was nominated for a Grammy Award for Best Americana Album and was listed as one of the "50 Best Albums of 2014" by Rolling Stone. His first major-label release, A Sailor's Guide to Earth, was nominated for Album of the Year and won Best Country Album at the 59th Grammy Awards.
Tyler Childers is an American singer-songwriter with roots in country, folk, and bluegrass. He's released two studio albums, Purgatory and Country Squire. Purgatory debuted at No. 1 on Billboard's Heat Seekers Albums chart in 2018. Childers also won Emerging Artist of the Year at the Americana Music Honors & Awards the same year. His second single from Country Squire, "All Your'n," was nominated for Best Country Solo Performance at the 62nd Grammy Awards.
---

No Limit Reunion Tour with Master P, Silkk The Shocker, Mystikal, Fiend, and Mia X – Mar. 1, 2020
The No Limit Soldiers reunite for their 20-year anniversary reunion tour! Fans can expect to hear all their favorites from the No Limit Records catalog, featuring artists Master P, Silkk the Shocker, Mystikal, Fiend, and Mia X.
Master P is an American rapper, record producer, and founder of No Limit Records. He first gained popularity in the mid-1990s with the release of the single "Mr. Ice Cream Man." His popularity continued to soar with the release of his platinum single "Make Em Say Uhh!" in 1997. That single featured all the No Limit artists that are part of the No Limit reunion tour!
Mystikal is an American rapper that has released five studio albums and one independent album. His most commercially successful album, Let's Get Ready, debuted at number one on the Billboard 200. The album featured the Hot R&B/Hip-Hop Songs number-one single "Danger (Been So Long)." Mystikal was also featured on the single, "Stutter" by Joe, which topped the Billboard Hot 100 in 2001.
Silkk the Shocker has released five studio albums and nine singles. His collaboration with Mya, "Somebody Like Me," became one of the top-selling singles on the Billboard charts in 1999. The single was featured on RIAA certified platinum album, Made Man.
Fiend is an American rapper that has released eight studio albums. His album, There's One in Every Family, peaked at number eight on the Billboard 200 and hit number one on the Top R&B/Hip Hop Album charts.
Mia X is known as the Mother of Southern Gangsta Rap. She has released three studio albums and is known for her collaborations with several No Limit Records artists.
---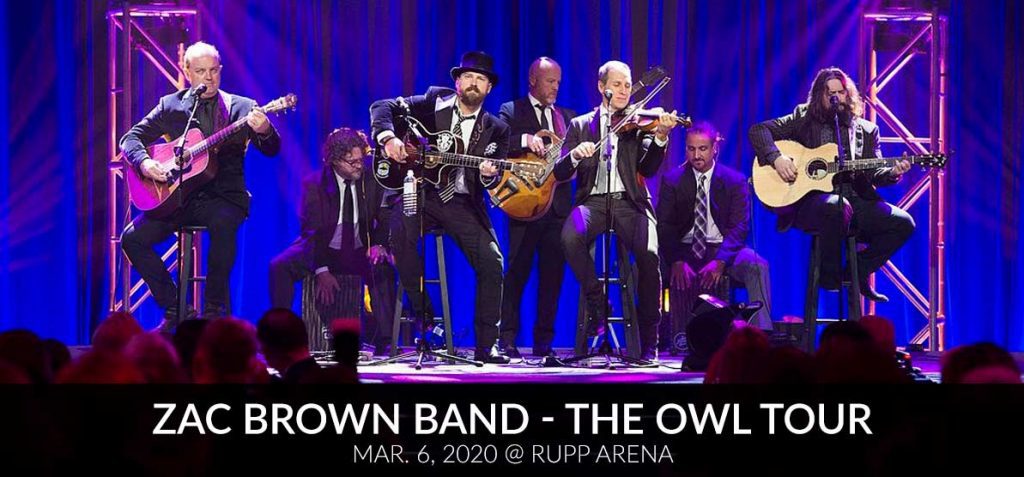 Zac Brown Band – The Owl Tour with special guests Amos Lee, Poo Bear, and Sasha Sirota – Mar. 6, 2020
Adding to the country concerts in Lexington, Ky — Zac Brown Band will bring their The Owl Tour to Rupp Arena in March 2020. Zac Brown Band is a Grammy Award-winning southern rock band with six consecutive Billboard 200 top 10 albums. The band has won three Grammy Awards, sold over 30 million singles and 9 million albums, and has had 15 #1 radio singles.
Amos Lee is an American singer-songwriter that has released seven studio albums. His 2011 album, Mission Bell, debuted at No. 1 on the Billboard 200 chart. He has toured as the opening act for some of the biggest names in music including Norah Jones, Bob Dylan, Elvis Costello, Paul Simon, Merle Haggard, John Prine, The Avett Brothers, and Adele.
Poo Bear is an American record producer and singer-songwriter. He rose to fame as being one of Justin Beiber's main collaborators. He's co-written many of Bieber's hits including "Where Are U Now," "What Do You Mean?," "PYD," "All That Matters," and "Hold Tight."
Sasha Sirota is a singer, musician, and sound engineer. He co-produced the Justin Bieber and R. Kelly collaboration, "PYD." He's also performed on several of Bieber's albums and has recorded with other acclaimed artists including Drake, Tyga, and Sean Kingston.
---

Winter Jam 2020 featuring Crowder, Passion, Louie Giglio, Andy Mineo, Building 429 and more – Mar. 7, 2020
Winter Jam is an American music tour that features contemporary Christian music artists from a wide variety of genres. Winter Jam 2020's lineup includes hip-hop recording artist Andy Mineo, Dove Award-winning artist Building 429, Dove-nominated singer-songwriter Austin French, Grammy-nominated NewSong, and many more! Tickets are not available for pre-purchase online, instead, Winter Jam goers will lineup for general admission access on Mar. 7, 2020 at Rupp Arena.
---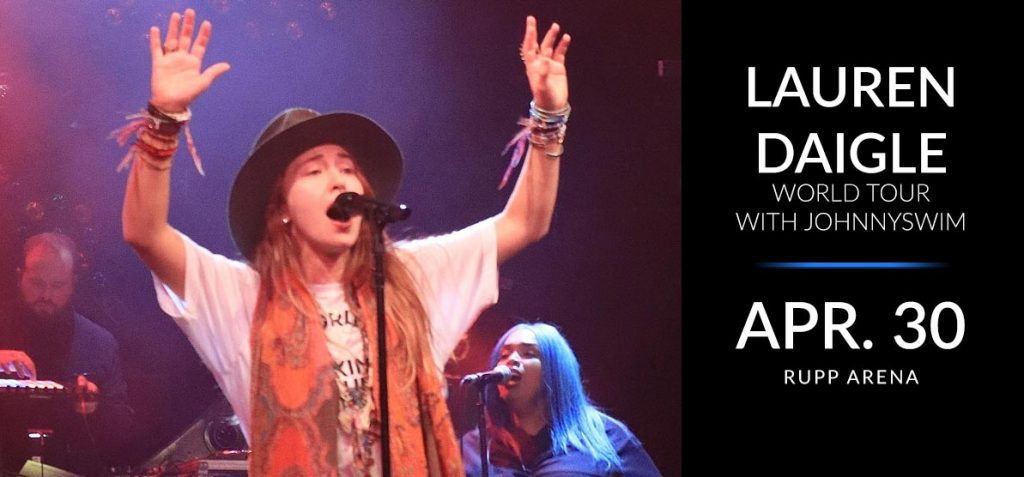 Lauren Daigle World Tour with Johnnyswim – Apr. 30, 2020
Two-time Grammy Award-winning contemporary Christian artist, Lauren Daigle, will bring her first headling arena tour to Rupp Arena in April 2020. She's sold out every single show to date; the tour was announced following nearly 70 sold-out performances. Her debut album, How Can It Be, reached number one on the Billboard Top Christian albums in 2015. Her latest album, Look Up Child, was released in September 2018. The lead single, "You Say," peaked at number 29 on the Billboard 100 chart and broke the record for the number of weeks at number 1 on the Billboard Hot Christian Songs at 66 weeks.
Johnnyswim is an American music duo consisting of singer-songwriters Amanda Sudano and Abner Ramirez. They have released three studio albums to date and have received major support from brands like Apple, Tommy Hilfiger, and Louis Vuitton.
---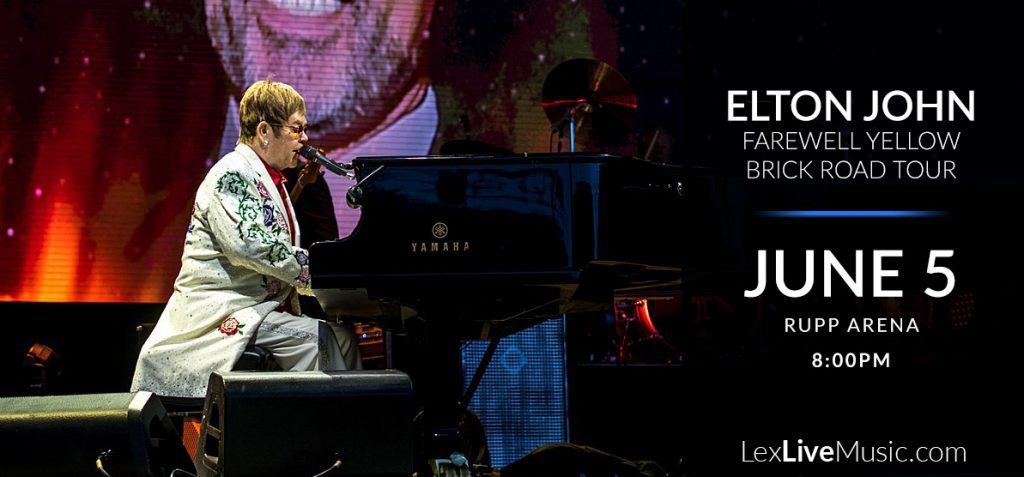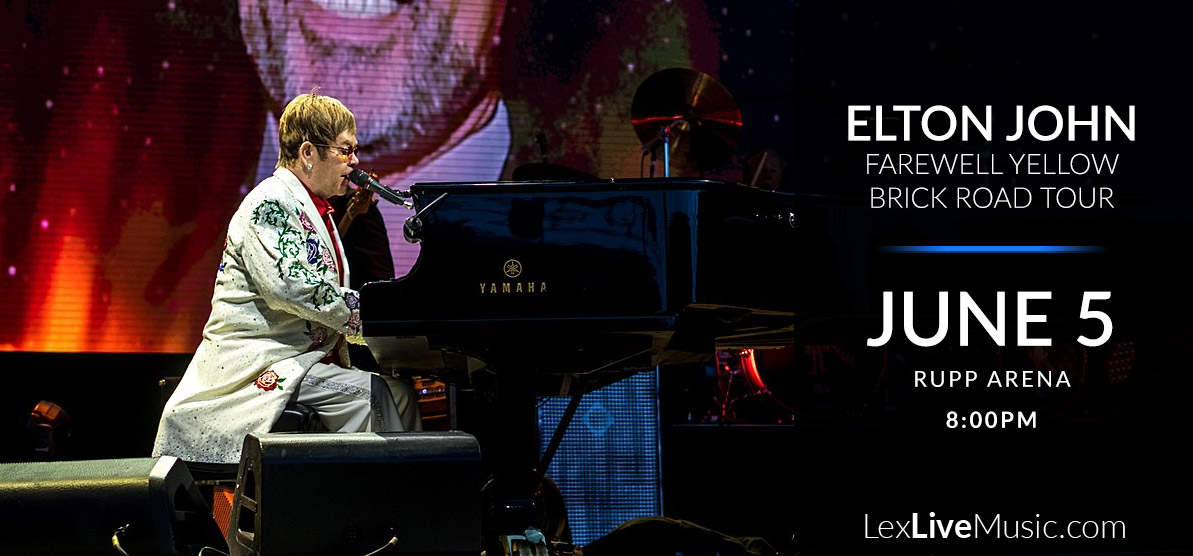 Elton John – Farewell Yellow Brick Road Tour – June 5, 2020
Elton John will bring his Farewell Yellow Brick Road Tour to Rupp Arena in 2020. Elton's final tour will take the audience on a magical journey through his career. Fans will get a glimpse of his life and get to learn the deep history behind some of his greatest hits through never-before-seen photos and videos. Elton's career spans 50 years and fans can expect to hear his classic songs including "Bennie and the Jets," "Rocket Man," "Tiny Dancer," and "Philadelphia Freedom."
Elton John needs no introduction. He's one of the best-selling artists of all time with over 300 million records sold. His tribute single "Candle in the Wind" is the best selling single in the history of UK and US singles charts. He's had more than fifty Top 40 hits, seven consecutive number-one albums in the US, and twenty-seven Top 10 singles with four peaking at number two and nine hitting number one. Don't miss him on his LAST tour ever when he stops by Lexington, Ky in June 2020.
---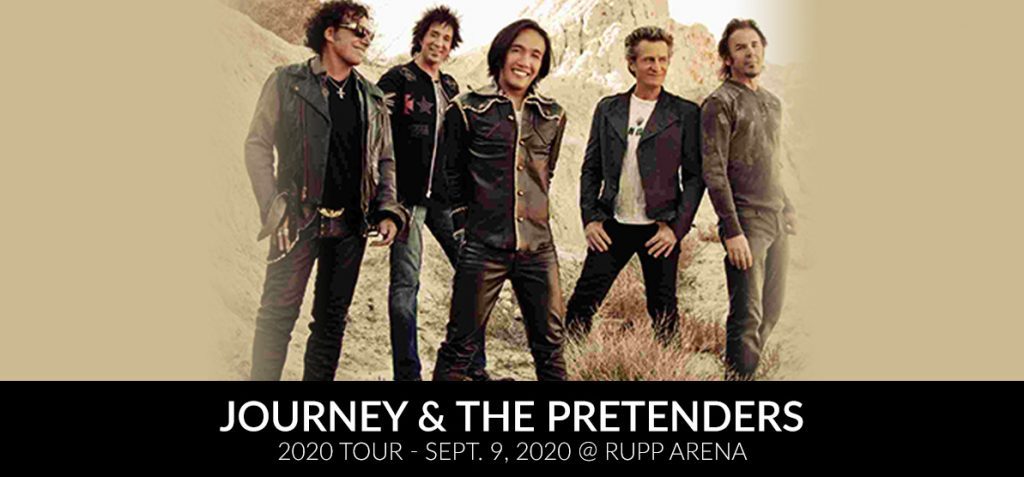 Journey with the Pretenders – Sept. 9, 2020
Journey and the Pretenders will be stopping by Rupp Arena in mid-2020. Lexingtonians better get ready for a night of classic rock! Journey will be playing their classics including "Faithfully", "Lights", "Any Way You Want", "Open Arms", "Separate Ways", "Wheel in the Sky", and "Don't Stop Believin'." The Pretenders will also be pulling out their hits including "I'll Stand By You," "Back On The Chain Gang," "Brass In Pocket," "Don't Get Me Wrong," "2000 Miles," "Middle of the Road," and "My City Was Gone."
Journey is a multi-platinum American rock band originally from San Francisco. They are the 25th best-selling band with over 48 million albums sold in the U.S. Since 1973, they've released 15 studio albums and had 18 Top 40 singles in the U.S. Six of their singles reached the Top 10 of the US chart while two made it to No. 1 on other Billboard charts. "Don't Stop Believin'" reached No. 6 on the UK Singles Chart and No. 3 on iTunes downloads in 2005. According to a USA Today opinion poll, Journey is the fifth-best rock band in history.
The Pretenders are an English-American rock band. They have released 10 studio albums and have had multiple Billboard-charting singles. "Don't Get Me Wrong" and "My Baby" both reached No. 1 the U.S. on Billboard's Mainstream Rock Chart. "Middle of the Road" reached Top 20 success while "Back on the Chain Gang" stayed at No. 5 for three consecutive weeks in the U.S. The Pretenders were inducted into the Rock and Roll Hall of Fame in 2005.
---
Rupp Arena Concerts 2020 Tickets
There's a lot of great shows coming to Rupp Arena in 2020. Haven't got your tickets yet? Head over to RuppArena.com or visit Ticketnetwork.com for sold-out shows (or if you have the money to spend on reseller front row tickets).
Check out other concerts and events coming to Lexington, Ky in 2020 below: